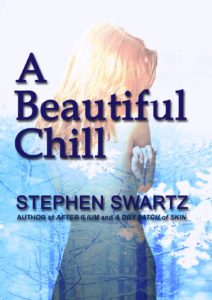 A BEAUTIFUL CHILL
Opposites may attract…but can they stay together?
Íris is a refugee from an abusive youth in Iceland, further abused on the streets of Toronto – until she sees Art as an escape. With a scholarship, she drifts from depression to nightmare to Wiccan rituals to the next exhibit. There's a lot she must forget to succeed in a life she refuses to take responsibility for.
Eric is settling in at Fairmont College, starting a new life after betrayal and heartbreak. Divorced and hitting forty, he has a lot to prove – to his father, his colleagues, and mostly to himself. The last thing he needs is a distraction – and there's nothing more distracting than Iris.
A Beautiful Chill is a contemporary novel set in the duplicitous world of academic rules and artistic license.
[These two characters appear again in Stephen Swartz's contemporary novel A Girl Called Wolf.]