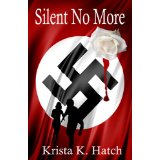 Trapped in the nightmarish world of 1942 Munich by a freak twist in time, two strangers must navigate their way to safety with only each other and the help of a rag-tag group of university kids hell-bent on taking down Adolf Hitler and the entire Third Reich. Silent No More is a riveting story of historical fiction based on the true-to-life courage of one small band of Germans – The White Rose – who refused to remain silent in the face of Nazi barbarism. An inspiring and action-packed tale, Silent No More will command your attention until you turn the very last page.
Order Now!
About the Book
What do you think? Please comment.
comments
The following two tabs change content below.