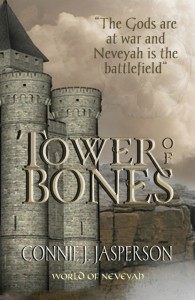 Edwin Farmer and his companions journey deep into the shadowed lands claimed by the dreaded Bull God, determined to rescue a kidnapped healer at any cost.
Battling creatures born of magic, fierce minotaur warriors, and the mad priest of the Bull God, Edwin must transform himself into a hero.
The Gods are at war and Neveyah is the battleground. Magic and destiny wait in the Tower of Bones.
TOWER OF BONES (AMAZON US) $2.99 KINDLE/$17.99 PAPERBACK
TOWER OF BONES (BARNES AND NOBLE US) $2.99 NOOK/$17.99 PAPERBACK