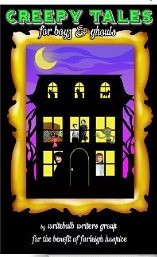 Also for children is the anthology Creepy Tales for Boyz & Ghouls, an anthology featuring short-stories written by Writebulb, a collective of authors in Essex, featuring work by Myrddin Authors, Carlie M.A. Cullen and Maria V.A. Johnson.
What would you do if you found monsters in your mum's underwear? How would you stop a bunch of mischief-loving goblins? If there was a ghost in your house, what would you do?
With fifteen creepy tales and poems this book is full of spine-tingling thrills, frights and fun.
Do you dare to look inside?
For children aged 6-11 years.