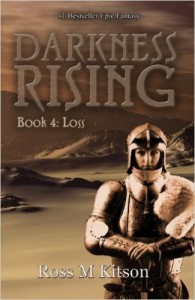 Bravery is measured in moments.
In the lands of Nurolia the evils of the past are returning to torment the present. Emelia and her companions traverse the arid desert of Pyrios seeking the red crystal. Its power resides in the grasp of the dreaded Red Emperor, who enslaves the warrior race of Incandians. Time slips away as Vildor, Lord of the Ghasts, begins his dreaded plan and as Emelia's sanity starts to crumble.
Far to the north, in the hills of Artoria, Aldred Enfarson holds onto life by a thread. His friends flee towards the walled city of Keresh, a dark army on their heels. Yet when the opportunity to save Aldred's life presents itself, they unleash a force every bit as terrible as Vildor. The Cabal, creators of the Prisms of Power, seek to return to the world—and Aldred may become the key.
The forces of darkness are rising—and tragedy awaits even the most heroic.
Darkness Rising- Loss is the fourth book in the original epic fantasy series that reviewers are describing as 'epic and spellbinding.' It is a must read for fantasy fans the world over.
About the series…
"Totally gripping… I was completely absorbed and loved reading every minute of it."
"Each page is a new rush of tension, mystery, and adrenaline."
"Richly imagined, well written and thoroughly absorbing."