This cake is full of appley deliciousness. It serves however many people you can talk yourself into sharing it with, up to about twelve. This recipe isn't well suited to cupcakes, but it can be done.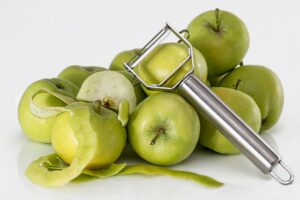 Ingredients:
1 Tbsp unsalted butter
2-3 apples, sliced and cut into chunks, preferably Granny Smith or another tart variety (peeling optional)
1 tsp apple pie spice or ½ tsp cinnamon, ¼ tsp nutmeg, ¼ tsp cloves (or any other combination of apple pie spices to your taste up to one teaspoon)
¼ cup sugar
1⅓ cup flour
½ cup sugar
2 tsp baking powder
1 tsp apple pie spice or ½ tsp cinnamon, ¼ tsp nutmeg, ¼ tsp cloves (or any other combination of apple pie spices to your taste up to one teaspoon)
⅓ cup cream
⅓ cup apple cider or apple juice
¼ cup unsalted butter, softened
1 egg
Equipment:
Large frying pan with a tight-fitting lid
One mixing bowl
Electric mixer
11-inch rectangular casserole pan, or any other baking container(s) able to hold about 8 cups of batter. No greasing is necessary, but you may wish to line the pan with parchment paper for ease of removal, especially if your baking pan isn't attractive enough for to meet your standards for serving.
Directions:
Melt 1 Tbsp butter in the frying pan.
Add apple chunks. Stir until coated.
Cover the apple chunks and leave them for 5 minutes or until mildly squishy.
Add 1 tsp apple pie spice and ¼ cup sugar. Stir until coated.
Cook until the juices become thick and bubbly.
Pour the apples into your baking container(s), but reserve as much of the liquid as possible. Set the pan aside with the liquid still in it.
Preheat oven to 350.
Whisk together flour, sugar, baking powder, and remaining apple pie spice in the mixing bowl.
Add cream or milk, apple cider, softened butter, and egg.
Beat with the mixer at your preferred speed until thoroughly combined.
Pour over apples in baking container.
Pour the reserved apple liquid over batter.
Bake for 30-35 minutes. Adjust as needed for your baking container.
Let cool on a rack before devouring.
Notes:
Keep your apple chunks uniform, as if you were making an apple pie. ¼ inch thick squares of about 1 inch are ideal.
Any kind of apple cider or juice will work for this recipe. If you use a spiced cider, you may wish to eliminate the spice in the cake, depending upon the tastes of your audience.
If you use apple juice, consider eliminating all the spices and add instead 1 tsp of vanilla to the cake for an interesting change of apple pace.
Although cream and butter are listed, these can be replaced with any form of milk-like and butter-like substances. However, the lower the fat content, the less delicious the cake will be, and the shorter a shelf-life it will have. For the first step, genuine butter is strongly recommended to provide flavor.
When reserving the liquid, also reserving some of the apple chunks works fine and can make the cake more attractive.
Frosting is not recommended. Anything you'd normally eat with apple pie is a better choice as an accompaniment.
What do you think? Please comment.
comments
The following two tabs change content below.
Lee French lives in Olympia, WA, and is the author of several books, most notably the Maze Beset Trilogy, The Greatest Sin series (co-authored with Erik Kort), and assorted tales in her fantasy setting, Ilauris. She is an avid gamer and active member of the Myth-Weavers online RPG community, where she is known for her fondness for Angry Ninja Squirrels of Doom. In addition to spending much time there, she also trains year-round for the one-week of glorious madness that is RAGBRAI, has a nice flower garden with one dragon and absolutely no lawn gnomes, and tries in vain every year to grow vegetables that don't get devoured by neighborhood wildlife.
Latest posts by Lee French (see all)