I've been dragged to the seventh circle of hell, aka the Mall, for holiday shopping two days in a row. This means sniffing perfumed cards thrust under my nose, drinking over-priced coffee, and hauling bags the approximate of several kettlebells.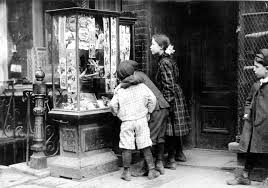 The truth is both trips were really fun, so ignore my weary attempt at hipster chill in the previous paragraph. But the reason I had a good time was not the shops, nor the food courts, and certainly not the constant offers of reward cards as long as I hand over lots of sensitive info.
Yesterday the trip was with my daughter, who's reaching an age where things get … sensitive. Let's just say there are hormones involved. Lately we've been a terrible rut where I'm sick of myself. Yes, I grow more and more tired of my squawking voice as I howl at her to GET THE HECK OUT OF THE BED and don't you miss the bus, young lady, because I surely am not driving you today.
Spoiler alert – I drove her that day.
So, it was lovely to forget all the homework, the grades, and the constant need to get a pre-teen lump out of warm blankets. We made each other laugh, especially when we realized the sweatshirt she wanted at Pac-Sun featured reindeer who were quite "friendly."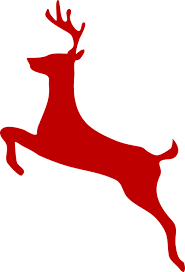 Today I hooked up with a pair of old friends and continued the carnage. There was more overpriced coffee (oh dear, I think I'm hooked) and more laughter. In fact, we guffawed so loudly about the poor oil baron's wife who'll end up having to wear that jeweled Victoria's Secret bra we might have startled the guy at the calendar cart.
It's been great, but I surely don't mind being in my house for the next few months, the way things should be. I'll crawl out to get staples like milk and chocolate, but that's about it. In any case, the real shopping is about to begin – downloading the new books coming out this month.
I highly recommend it. I plan to do this shopping in pajamas and slippers, with a glass of something jolly firmly in hand. I want a few Gillian Flynn books as well as Nightingale, the historical novel about a pair of sisters in WWII.
And *shameless plus alert* don't forget the upcoming Myrddin collection of short stories, featuring horror and romance and fantasy.
Oh yes. It will be mine.
While you're shopping to feed your Kindle or the blank space in your bookshelves – do you have any blank spots? I definitely do not – why not toss together a batch of tassies? You can make the pecan or lemon version, and they're delicious. Here are my recipes for both:
PECAN TASSIES
1 cup butter, softened
1 (8-oz.) package cream cheese, softened
2 1/2 cups all-purpose flour
1 1/2 cups firmly packed brown sugar
1 1/2 cups chopped pecans
2 large eggs
2 tablespoons butter, melted
2 teaspoons vanilla extract
1/8 teaspoon salt
Preparation
1. Beat 1 cup butter and cream cheese at medium speed with an electric mixer until creamy. Gradually add flour to butter mixture, beating at low speed. Shape mixture into 48 balls, and place on a baking sheet; cover and chill 1 hour.
2. Place 1 dough ball into each lightly greased muffin cup in mini muffin pans, shaping each into a shell.
3. Whisk together brown sugar and next 5 ingredients. Spoon into tart shells.
4. Bake at 350° for 20 minutes or until filling is set. Cool in pans on wire racks 10 minutes. Remove from pans; cool on wire racks 20 minutes or until completely cool.
Note: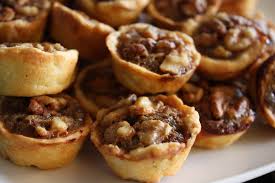 Prep: 45 min., Chill: 1 hr., Bake: 20 min., Cool: 30 min. If you don't have four mini muffin pans, you can bake these in batches. Keep the extra dough chilled until you're ready to use it.
LEMON TASSIES
INGREDIENTS
FOR THE CRUSTS:
• 5 tablespoons cold unsalted butter, cut into chunks, plus more for pans
• 1 cup all-purpose flour
• 3 tablespoons sugar
• 1 large egg yolk
• 1/2 teaspoon pure vanilla extract
• 1 teaspoon finely grated lemon zest
• Pinch of salt
FOR THE FILLING:
• 8 ounces cream cheese, room temperature
• 1/3 cup sugar
• 1 large egg
• 3 tablespoons finely grated lemon zest
• 1 tablespoon freshly squeezed lemon juice
• 1/2 teaspoon pure vanilla extract
DIRECTIONS
1. For candied lemon zest: Remove zest from lemons with a vegetable peeler, keeping pieces long. Remove white pith using a paring knife, and finely julienne using a very sharp knife. Place julienned zest in a small bowl; cover with boiling water. Let stand for 30 minutes; drain.
2. Bring 1 cup sugar and the cool water to a boil in a small saucepan over medium-high heat. When sugar is completely dissolved, add julienned zest, reduce heat to medium-low, and cook for 10 minutes. Remove from heat, cover, and let stand overnight. Remove zest, and drain on wire rack. Roll in sugar. Dry on wire rack. Store zest in an airtight container for up to 2 weeks.
3. Preheat the oven to 350 degrees with rack in upper third. Lightly butter a 24-cup mini-muffin pan; set aside. In a food processor fitted with a steel blade, combine the flour and butter. Pulse until mixture is the consistency of fine crumbs. Add the sugar, egg yolk, vanilla, lemon zest, and salt. Process until evenly incorporated and smooth; do not overprocess.
4. Divide the dough into quarters. Divide each quarter into 6 pieces. Shape into balls. Place each ball in a muffin cup; press down in the centers so that the dough fits the cups snugly. Set muffin pan on a baking sheet.
5. Bake until lightly browned all over and slightly darker at the edges, 15 to 20 minutes. Transfer baking sheet with muffin pan to a wire rack to cool.
6. Make the filling: In an electric mixer fitted with the paddle attachment, beat cream cheese, sugar, egg, lemon zest, lemon juice, and vanilla until completely smooth. Using a 1/4-ounce ice cream scoop, fill the cooled crusts. Bake until filling is set and just beginning to color at the edges, 10 to 12 minutes. Transfer muffin pan to a wire rack. Garnish with candied lemon peel. Let cool completely before serving. The tassies may be stored in an airtight container, refrigerated, for up to 3 days.
What do you think? Please comment.
comments
The following two tabs change content below.
Alison
Alison DeLuca is the author of several steampunk and urban fantasy books. She was born in Arizona and has also lived in Pennsylvania, Illinois, Mexico, Ireland, and Spain. Currently she wrestles words and laundry in New Jersey.