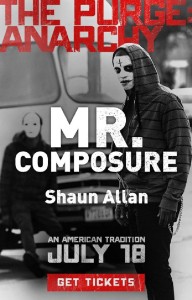 "Once upon a time…"
All the best stories begin that way. Once upon a time, Jack climbed a beanstalk. Cinderella did go to the ball.
Once upon a time, his parents died.
When your parents are killed in front of you on the one day of the year when all crime is legal, what do you do?
You prepare for next year. You prepare for payback…
–
Specially commissioned by NBC Universal for the release of the film The Purge: Anarchy, Mr. Composure is "simply superb" with the best plot twist ever!"
Meet Mr. Composure on Amazon and Smashwords.