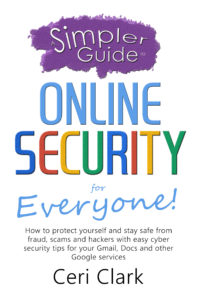 A Simpler Guide to Online Security for Everyone is available as Kindle, ePub and Paperback versions. Now free as an ebook at Amazon, Apple and Kobo among other good ebook stores.
Are you worried about online security but don't know where to start? Do you have a Google account and want to make it more secure? Do you want to protect your emails from opportunist hackers? Then this guide is for you!
What you will find in A Simpler Guide to Online Security for Everyone:
Learn why online security is so important; protect yourself from identity thieves, fraudsters, hackers and scammers
Choose and change your passwords
What is and how to Setup 2-step verification
Add recovery information so you don't lose access to your Google account
What to do if you find you have been hacked
How to protect your account while away from home and much more…
Your email is one of the most important tools available on the internet. It represents communication, community, business and just keeping in contact. It is also a big threat to your online safety. You don't need to be a cyber expert to protect your identity online. Protecting your email is one of the best things you can do. This books shows you why it is important to protect it and more importantly how to secure your Google email. If skilled hackers want to get into an account they will always find a way but for the vast majority of users, following these tips will protect you.
What do you have to lose? Download it today for FREE at:
…or buy the paperback at Amazon.
A Simpler Guide to Online Security for Everyone is part of the Simpler Guides Series. Other books in this series are:
This security guide for everyone is available as paperback, Kindle and ePub books.