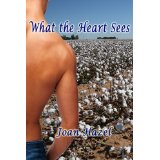 Beth Ranier never paid much attention to romance or to society's definition of beauty. Her relationship with Montgomery's most eligible bachelor, Dr. Aaron McAfee, had a tendency to leave her in a state of confusion and disappointment. Then she met his older brother, Daniel.
Daniel McAfee never complains about the way his life turned out. As a young man his is forced into deciding between his own happiness or the needs of his family. Daniel puts his dreams of becoming an artist on hold to take over the family farm. He does not understand his younger brother's disdain toward him. Still he takes great care to clean up the string of messes Aaron always leaves behind.
Convinced he will never be more than a farmer, Daniel loses the ability to see his life as anything more. But when Aaron brings home his latest girlfriend, Daniel's artist soul reawakens. In Beth, he sees everything he wants in woman, and once again he must choose between his brother's happiness or his own.