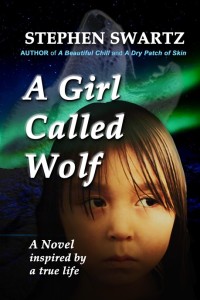 A GIRL CALLED WOLF
by Stephen Swartz
(December 2015)
A Girl Called Wolf (paper)
A Girl Called Wolf (Kindle)
Ice and snow are all 12 year old Anuka knows outside the hut in Greenland where she was born. When her mama dies, Anuka struggles to survive. The harsh winter forces her to finally journey across the frozen island to the village her mama always feared.
But the people of the village don't know what to do with this girl. They try to educate and bring her into the modern world, but Anuka won't make it easy for them. She sees dangers at every turn and every day hears her fate echoing in her mama's voice.
Her mama gave her that name for a reason. She is A GIRL CALLED WOLF, forever searching for the place where she belongs, a destination always just out of reach, on a path she will always make her own.
Based on the amazing coming-of-age and adult adventures of librarian, boxer, and Canadian soldier Anna Good!