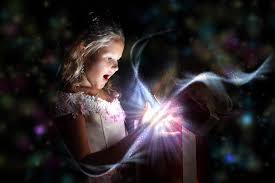 When you ask about magic and what it is, most people would think of Harry Potter waving his wand and shouting "Expelliarmus", fairy godmothers, leprechauns, magical creatures like unicorns, and all types of beings like goblins, dwarves, etc. And that's fine. It's a world we've come to know through films and books. The fantasy genre is a wonderful realm in which to escape our problems and suspend belief for a while and I must admit I'm a huge fan.
However, have you thought about the magic that happens every day in the here and now, in amongst the hustle and bustle of daily life?
The perception of magic is a very individual thing and different events will affect people in myriad ways. Let me take you on a little journey to explore the magic which is all around us.
A newborn baby's first cry – for first time parents, or any parent for that matter, it's the most magical sound in the world. Your wedding day, which you've saved for and planned for months, that moment when the vicar, priest, or celebrant says the magic words, "I now pronounce you man and wife." A special anniversary or birthday can have elements of magic during the celebrations. The first time your boyfriend/girlfriend says those three little words which mean so much, or a marriage proposal – aren't they magical times for the people concerned?
Look around at the wonders of nature: an egg hatching in a nest, or any animal being born – who can resist making a fuss of a tiny kitten or puppy; watching salmon swimming upstream as they find their place to spawn; when spring arrives and buds start appearing on trees and flowers bloom for the first time in months; beautiful rolling hills of green; a bluebell wood; dolphins jumping in and out of water alongside a ship; a magnificent waterfall; and a life being saved, whether human or animal.
This is just a small list of magical things that happen in our world every day, a great deal of which we take for granted, but nevertheless to some of us, one or more of the above is enchanting, miraculous, mystical, or maybe all three.
I hope our little journey opened your eyes to the magic in the real world. Now, where did I put that book…?