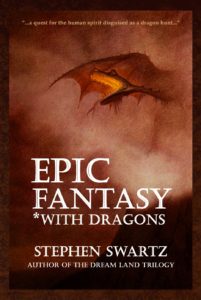 An Epic Fantasy* like no other!
(*with dragons)
Epic Fantasy *With Dragons
Master Dragonslayer Corlan Tang is the best in the business!
So it is little surprise that jealous Guild rivals conspired to have the sniveling Prince to banish him from the city.
Sent out into the Valley of Death – and stuck with a runaway boy from the palace kitchen – Corlan decides on a plan. He will head to the far end of the valley where he's heard a vast marsh provides nesting grounds for the dragon horde. There he will smash their eggs and lance the younglings, destroying dragons once and for all! Then he can return as a conquering hero!
However, like any foolhardy quest, there are constant dangers and seductive detours along the way – as well as unsettling encounters with new allies, fiends, and traitors. A quest changes a man, Corlan realizes, and he finally must reconcile the dark secrets from his past.
Despite every distraction, Corlan must succeed, if only for his own stubborn sense of justice, but also so he might return home again. To achieve his goal, he must push himself onward, use his wits and guile, demonstrate his daring-do, and employ all the will and strength he can muster – for surely the gods have assigned him their harshest tests in this twisted new world, harshly cleaved from fire and quake. After all, the fate of the world rests in our hero's hands.
[Read more about the creation of this epic work on the author's blog.]