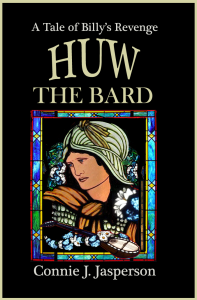 HUW THE BARD, by Connie J. Jasperson, published March 28, 2014
(new release)(mature readers)
Genre: Fantasy, alternate history
Synopsis:
The youngest master in the Bards Guild, eighteen-year-old Huw Owyn is at the top of his craft. The Spring Conclave is underway, and Huw is late to the ceremonies. While he lingers with his lady, the Bard's Guild is attacked. Seeking to become the heir of most powerful man in the valley, Earl Rann Dwyn hangs the Guild Master, Huw's father. His thugs torch the hall with everyone still inside, burning a quarter of the city with it.
Smuggled out of the burning city in a reeking ale barrel, Huw is a wanted man. Starving, reduced to begging and worse, he must somehow make his way north to safety. It's a 200-league walk, as the crow flies, to the one place he might have a friend, though the path Huw must take is anything but straight.
Murder and the taint of treason – a lot can happen to a man on journey like that.
Amazon Buy Links:
Author Website Address:
http://conniejjasperson.wordpress.com