Slime is the new craze for kids in our neck of the woods. My daughter has become an amateur chemist, learning how to mix school glue and borax in order to get the perfect, slimy result.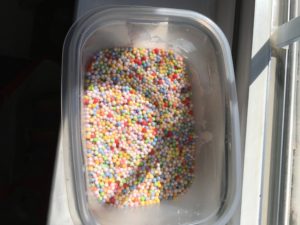 In theory, slime-crafting is very easy. Mix 1 ounce of glue with ¼ cup of Borax in a bowl. Stir slowly. Knead it carefully to make the slime less sticky, and store in a covered container. Make sure you wash your hands after making or touching Borax slime.
WARNING – Do be careful with Borax, since it's a mild irritant. Equip your child (and yourself) with gloves, and read this article about Borax safety. You can also make slime with cornstarch instead.
The first few times we made slime, the process required entire rolls of paper towels. Results were disheartening: blobs of yucky stuff and a kitchen that looked like a bomb had gone off inside.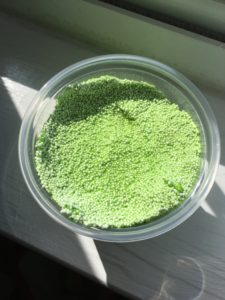 I just closed my eyes and prayed to the slime gods that this newest craze would go the way of Rainbow Looms, Silly Bands, and those Littlest Pet Shop toys.
But no. Slime has become an obsession, and my daughter has become an expert. There are many different kinds of slime: 'butter' slime (add modeling clay) or 'bubble' slime (add floam.)
You can add food coloring for all kinds of rainbow effects. Experiment with glitter, glass beads, Styrofoam pellets. There's no limit to the mess!
Luckily, slime-making has been relegated to the outside as the weather warms up. Miraculously, I've reclaimed my kitchen and clean-up is accomplished with a hose. Plus, I've learned to buy glue by the gallon instead hundreds of those silly little bottles.
Believe it or not, there are slime-artists out there. They sell slime on Etsy and other sites, offering all different effects. I've had to actually buy some of these for my kid, since slime was all she wanted for several major holidays.
In my continuing quest for the bright side, I keep telling myself this new hobby is good. The kid is learning home-grown science, she's creating art in a way, and it's better than being her obsessed with some stinky boy.
Yes, slime is a good thing, I tell myself as I haul out the hose and wash the patio free of glue and food coloring – again.