The process of writing Valley of Sorrows spawned a spin-off book: The Wayward Son. That book is in the final stages of formatting and is set to be published in September 2016. It is a companion book that takes place concurrently with Forbidden Road and details some, but not all, of the events that occurred in Aeoven during Edwin's absence.
The way I ended up writing a companion book is that the original manuscript of Valley of Sorrows was really two separate stories. I didn't want John's thread to take away from Edwin, Freidr, and Zan's story, but his background is intriguing–so I took him back to the day he returns to Aeoven, the same day Forbidden Road opens.
While the two stories dovetail in some places, and familiar characters appear in their usual roles, this book is not so much about the action as it is about a man learning to live again, despite his battle related PTSD.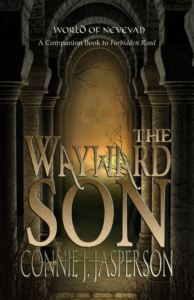 The Wayward Son tells the story of John Farmer, Edwin's father, and takes place concurrently with Forbidden Road. This book was far easier to write than many others, as it explores combat-related post-traumatic stress disorder (PTSD), a condition I am all too familiar with, as a bystander.
John's story opens with an incident that changes his life. Twenty-five years later, John must return to Aeoven and face the past, and somehow learn to live with himself.
We writers all use our knowledge of the world around us to draw on when we are creating a scene or a character, even if we are not aware of having done so. I have deliberately drawn on observations made during my childhood and young adult years to create John's gut-reactions and to show how his life was colored by his experiences.
My father was a veteran of WWII, and a man who'd intended to make the military his career. Dad was a staff sergeant in charge of a communications outfit and was always just behind the actual battlefront, always passing through the aftermath. He never discussed it, but the enemy knew how important these communications outfits were, so they must have been important targets. I do know he'd survived several aerial attacks and lost several close companions to enemy bombs, men who were there one minute and gone in a pile of wreckage the next.
The (non-combat related) loss of his left leg changed his career path. He never could wear the prosthetic leg they gave him, but became a draftsman and made a very good living. Other than being inconvenienced by having only one leg, everything seemed on the surface to go on normally.
My dad and my uncles never really got over the war, and they all suffered from survivor's guilt to a certain degree. They came home and settled back into society, and began building the American Dream. When he was sober, all Dad ever really said about the war was that the good guys had won. When he'd been drinking, he might say more, but not much.
Dad was an avid gardener, a musician, a brewer, and a winemaker. He was passionate about his interests, a renaissance man who insisted we read (and discuss) all manner of books from the classics to comic books, be athletic, and learn to play a musical instrument.
But Dad was also a volatile man who drank too much every weekend and partied as hard as he worked. He was often angry and would say harsh things. Years after my father's death, my late Uncle Wesley explained some of what dad had experienced and during our conversation, many things that had puzzled me fell together.  Uncle Wes put it very bluntly: Dad drank to forget.
Until recently, soldiers suffering "battle fatigue" (what we now refer to as combat-related Post Traumatic Stress Disorder) were sent home and told to forget about what they had experienced. They were often psychologically abused by the very doctors who should have been treating them,  who basically told them to man up and just get on with life.
I wrote this book out of respect and love for all our veterans. It is a story about soldiers, set in a fantasy world, but dealing with life after the war.
The Wayward Son:
Deeds done in the heat of battle cast long shadows.

The most famous man in the history of the Temple, retired Commander John Farmer, has left the militia behind. War looms and John must answer the call to serve, but his terrible secret could destroy everything. A broken mage trying to rebuild his shattered life, he must somehow regain his abilities, or everyone and everything he loves will be lost.

John must face the crimes of the past to become the hero he never was.
The Wayward Son will launch on September 15. Pre orders are available at Amazon by clicking on this link: Pre-Orders for the Wayward Son
What do you think? Please comment.
comments
The following two tabs change content below.
Connie
Connie J Jasperson lives and writes in Olympia, Washington. A vegan, she and her husband share five children, eleven grandchildren and a love of good food and great music. She is active in local writing groups, and is the Olympia area municipal liaison for NaNoWriMo. Music and food dominate her waking moments and when not writing or blogging she can be found with her Kindle, reading avidly.