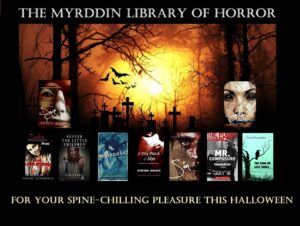 Need something to read while you wait for trick or treaters this Halloween? Why not try one of the gruesome delights from Myrddin Publishing Group? Whether you are into straight horror, or horror that resides in the paranormal genres, or even if you like a little romance mixed in, Myrddin Publishing Group has just the Halloween delight for you! But be careful, you won't be able to stop at just one gruesome story.
RACHEL TSOUMBAKOS
ZOMBIE APOCALYPSE NOW! (The Complete Series)
Four women find themselves in the middle of the zombie apocalypse. Each from different backgrounds and locations, they somehow manage to find each other.
METANOIA
Marli Anderson must return to the town she once knew to kill the man she was once married to. Instead of revenge, she finds zombies.
THE RING OF LOST SOULS
Larundel – A place plagued by lost souls.
A ring that has claimed a few of them.
And a woman who is about to collide with a world she has forgotten about.
What will Isobel find when she finds herself drawn to an abandoned asylum?
STEPHEN SWARTZ
A DRY PATCH OF SKIN
The truth about being a vampire: It is not cool, not sexy. It's a painful, miserable existence. Good reason to avoid that situation, thinks medical technician Stefan Székely. He's too busy falling in love with TV reporter Penny Park. Until one day when she notices a dry patch of skin on his face.
You can read my review of Stephen's book here.
SHAUN ALLAN
SIN
Dead, dead, dead. Say it enough times and it becomes just another word.

What would you do? Could you kill a killer? Does the death of one appease the deaths of a hundred? What about that hundred against a thousand?

What if you had no choice?
You can read my review of Shaun's book here.
DARK PLACES
There is darkness and madness in each of us. We must do battle with our own demons. But – what if those demons opened the door in the back of your mind and stepped out. What if they became real? If the night, the shadows, the reflections, and Death himself walked among us? And what if they were watching you? Waiting? Thirsting? Dark Places. Thirteen stories. Thirteen poems. Thirteen doorways.
DARKER PLACES
What if you could steal the final moments from the dying? What if you had the darkest secret, but couldn't think what it might be? What if you entered the forest in the deep of the night. Who is the melting man? And are your neighbours really whom they appear to be?
MR. COMPOSURE
"Once upon a time…"

All the best stories begin that way. Once upon a time, Jack climbed a beanstalk. Cinderella did go to the ball.

Once upon a time, his parents died.
*Specially commissioned by NBC Universal for the release of the film The Purge: Anarchy*
SUFFER THE LITTLE CHILDREN
Simon, Fey and Rebecca. An ordinary family trying to cope after the death of the girls' mother. One day, Rebecca 'gives' her imaginary friend, Nathaniel, to Simon, telling her father he can keep Nathaniel 'forever'…
*Specially commissioned by Universal for the release of the movie sequel Sinister 2*
What do you think? Please comment.
comments
The following two tabs change content below.
Alison
Alison DeLuca is the author of several steampunk and urban fantasy books. She was born in Arizona and has also lived in Pennsylvania, Illinois, Mexico, Ireland, and Spain. Currently she wrestles words and laundry in New Jersey.