Summer is salad time, and from my way of thinking, nothing says summer like a wonderful macaroni salad. If I have all the ingredients listed below on hand, I use them all–it makes an amazing salad. The one thing that never changes is the extraordinarily simple dressing, as it defines the Southwest flavor. The finely diced smoked tofu absorbs the flavors of the dressing and other ingredients, adding the protein in small, flavorful bites, so delicious that most carnivores won't even know they're enjoying tofu. (Do warn people there is soy in the salad dressing even if you don't go with the tofu, as some people are sensitive to it and we don't want to cause them to have an allergic reaction.)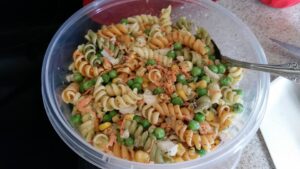 Vegan Pasta Salad with South-of-the-Border Dressing
Ingredients
1 pound (16 oz package) colorful vegan pasta, macaroni, spirals, or smaller sized pasta
Add ins:
1 cup sliced olives, your favorite kind
1 cup baked, smoked tofu, diced in tiny cubes
1 cup frozen corn (whole kernel)—I love Trader Joe's Fire-Roasted Corn
1 to 1 1/2 cups vegan cheese, grated (I like Daiya Jalapeno Harvarti)
1/2 cup chopped yellow and red bell peppers
1 cup halved cherry tomatoes
1 cup grated carrots
1 cup frozen edamame or peas
1 cup sliced scallions (or onions if you are daring)
1 cup sliced radishes
1 can rinsed black beans
Dressing:
3/4 cup Veganaise (or other vegan mayo)
3/4 cup Salsa (your favorite brand)
Directions:
Cook a whole package of pasta according to package directions. Drain and allow to cool before using. Once your pasta is cool, stir in the add-ins, dump the mayo and salsa on top and stir it all together. Allow to sit in the fridge for at least 1/2 to 1 hour to allow the flavors to meld and serve. (Add a little more mayo and salsa in equal parts if the pasta has soaked up the dressing and is too dry for your taste.)
What do you think? Please comment.
comments
The following two tabs change content below.
Connie
Connie J Jasperson lives and writes in Olympia, Washington. A vegan, she and her husband share five children, eleven grandchildren and a love of good food and great music. She is active in local writing groups, and is the Olympia area municipal liaison for NaNoWriMo. Music and food dominate her waking moments and when not writing or blogging she can be found with her Kindle, reading avidly.