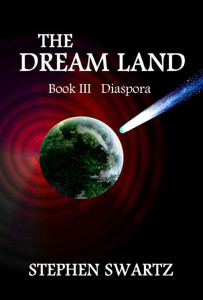 The Dream Land 3 – Diaspora
They've changed history, but not even an Interdimensional Voyager can stop a comet!
Set-d'Elous (a.k.a. Sebastian Talbot) lies paralyzed, tormented by the evil Empress—his wife. Meanwhile, the other Voyagers were blown far and wide by the terrorists' bomb. Tammy and Chuck awaken on Earth, unable to explain where they've been. Chucker, lost in the jungle, discovers his assassination team shot the wrong man.
Chucker must track down his mentor Set-d'Elous and free him from captivity, then search for his parents. Back on Ghoupallesz, a violent new cult has arisen, warning of destruction, led by the disfigured Michael, former IRS Service Center playboy.
Legend tells of a cleansing comet. Fortunately, Jinetta-d'Elous (a.k.a. Gina Parton, Interdimensional Voyager) comes forward to drive industry ahead from airships to interstellar spacecraft. But will they make it in time? Or will petty differences and ancient grievances get in the way for survival of the few lucky ones?
THE DREAM LAND Trilogy concludes with an epic crash of parallel timelines and a comet that will test even the hardiest of Interdimensional Voyagers!