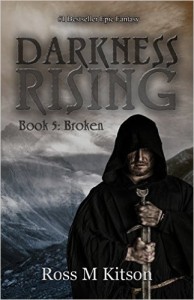 Beneath the veneer, beneath the beauty, there is always the coldness of stone.'
Tragedy has torn apart Emelia and her companions, a terrible betrayal instigated by the Darkmaster, Vildor. A devastated Jem struggles to control the fearful power of the crystals, becoming distant from his closest friends. Hunor and Orla are tested by a secret from the past, a revelation that will change everything between them. In the Dead City, Emelia begins a search for her past, a journey that will plunge her deeper into the darkness of Vildor and his twisted schemes.
Desperate to seek aid in their battle against Vildor, the companions travel north to Belgo, capital of North Artoria. But everything is not what it seems in the palace, and danger lurks in every shadow, whether cast by friend or foe. Separated and alone, can Emelia, Jem and Hunor hope to prevail? Or will the evils of the present and the past overcome them at last?
Darkness Rising 5 – Broken is the fifth in the epic fantasy series that reviewers are calling 'epic and spellbinding.' It is a must read for fantasy fans the world over.