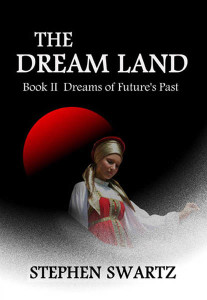 The Dream Land 2 – Dreams of Futures Past
So you've conquered a new world…. Now to change their history!
Sebastian Talbot (a.k.a. Set-d'Elous, legendary warrior) has exiled himself to a desolate island, content to laze away the days writing his memoir. Until the emissary from Queen Tammy arrives with a mission he cannot refuse. Tammy, the IRS clerk he took to Ghoupallesz, wants him to go fetch her son who she left on Earth.
That mission raises questions for Sebastian: If he can go back and forth through these interdimensional doorways and arrive in a different time period, perhaps he can prevent the big war he fought through, the war that destroyed his family as well as millions of others. Then, while on patrol duty in his "next" life, he comes upon a young poetess he knows will become the rebel leader who helps overthrow the monarchy and initiates the wars. What would you do?
THE DREAM LAND Trilogy continues in Book II with parallel timelines, world domination and global destruction, and as always the crazy minutiæ of heroic minds daring to play God without a rule book.