As a member of the British Fantasy Society, I always try and go to FantasyCon every year. It's a place where publishers, agents, authors, and fans come together and celebrate the genres of fantasy, sci-fi, and horror.
The one great thing about this event is how friendly everyone is – even top publishers and authors will take the time to stop and have a chat. You do have to approach them yourself, especially when you're new to it, but once you've been going three or four years they will recognise you and stop for a chat regardless.
This year's convention was in Nottingham. The hotel was opposite the East Midlands Conference Centre which was very handy unless it was raining. Unfortunately, there were no covered walkways between the two. Was I expecting too much?
On arrival at the convention, you sign in and are given a lanyard, which you wear all the time, and a tote bag sponsored by one of the publishers attending the event. Next you join the queue to several tables groaning under the weight of free books which you can pick up and take home. No exaggeration, I picked up forty-two books and I didn't take one of everything available, I only chose the ones that interested me.
After the opening ceremony, the event started. There were book launches, readings, and various panels you could go to, which mainly discussed various topics to do with fantasy, editing, and publishing, plus workshops. As there are several of these going on at the same time, it's very much a case of carefully choosing which ones to attend. It's not as easy as it sounds, especially when you have two panels you want to go to which clash.
I attended really interesting panels, some of which made me realise that I occasionally need to do a little more research before writing certain scenes in my books.
Entertainment was laid on for the evenings, and you had a choice of what to attend. Alternatively, you could hang out in one of the bars and start making new friends, catch up with those made in previous years and broaden your number of contacts. This is particularly important if you're a new author. The contacts you make can be invaluable. Personally, I really enjoy the social aspect.
The highlight of the event for me was meeting Brandon Sanderson, who was the special guest. He is down-to-earth and generous with his time. There was a signing session and as I have most of his Mistborn series, I took them along with me. He not only signed them, he agreed to have his photo taken with me, and gave me the opportunity to ask him questions and generally chat. He didn't try to rush me away as some authors do; Brandon's ethos is to give as much of his time to each person who came to see him as was needed and would stay until every person who had queued was seen, even if it meant over-running. It's a shame not all authors do the same.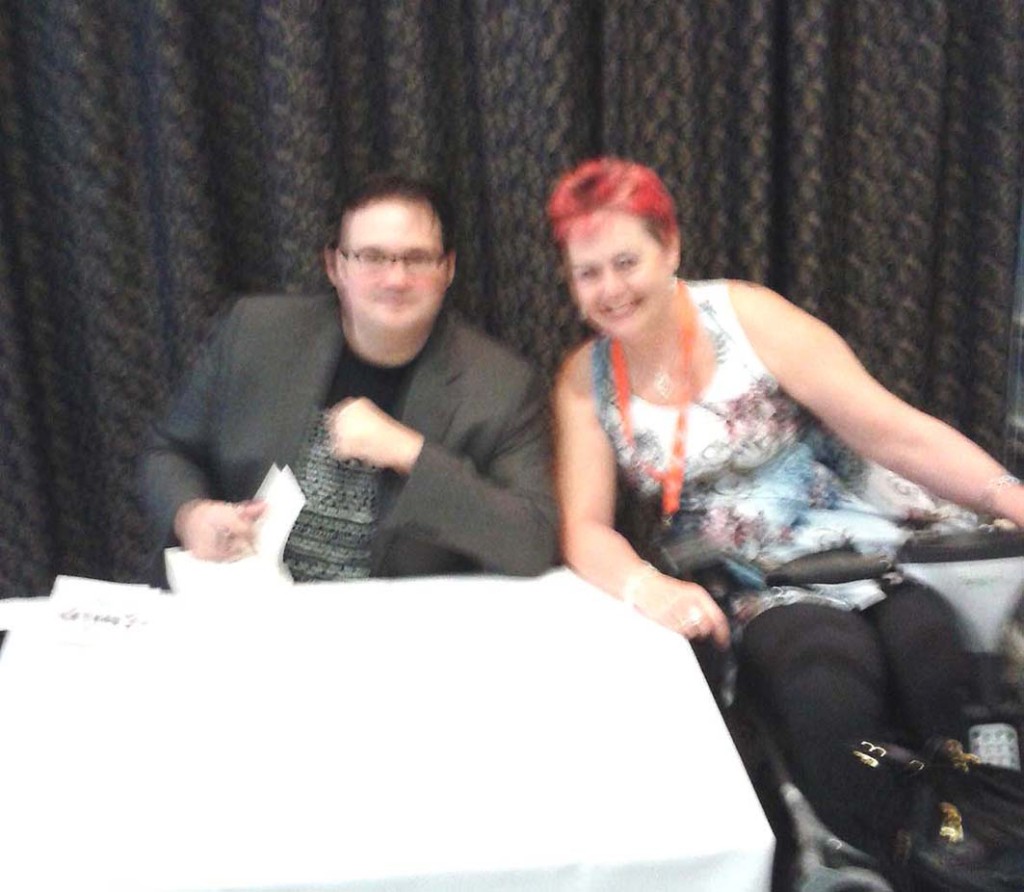 The last day of FantasyCon, a mass signing took place in the Dealer Room. This room was where publishers and self-published authors could take a table (or more) and sell their books. Before that was the British Fantasy Society AGM. All members are encouraged to attend as they can help shape the society by putting forward their opinions and suggestions.
After that, the Awards Banquet and the BFS Awards ceremony took place. I didn't stay for that. The banquet is always priced quite high, usually more than I can afford, plus I had the four-hour return journey to consider.
I always gain so much from this convention which is why I go every year. I would certainly recommend it, even to seasoned writers. After all, there is always something more we can learn.