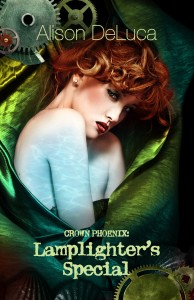 Lizzie and her sister are forced to work in a huge Manor and on a steamship to support their family.
They are caught up in several mysteries:
The squire's oldest son cannot leave the attic
An old typewriter seems to move time and space
A passenger hides in a secret room
A beautiful visitor is plotting against them
And Lizzie discovers that she has a strange, new ability.
She and her sister must discover the secrets of The Lamplighter's Special before their enemy catches up with them.
You can buy Lamplighter's Special on Amazon US, Amazon UK, and on Barnes and Noble Nook.