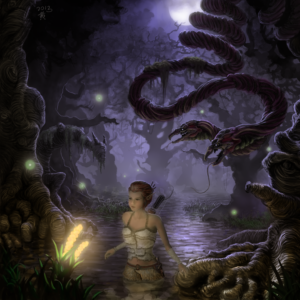 Romantic love and passion are important to us as humans and also are things we enjoy in our reading.  But truthfully, novels heavy on the graphic "insert tab 'A' into slot 'B' details" don't interest me. Neither do adventure novels with no hint of romance, I like my reading material highly adventurous and well seasoned with romance. I say this for two reasons:
Graphic romance with no plot is porn, and I think we should just call it that and be done with it. It doesn't intrigue me, so I probably won't make a habit of writing it, but I say good for you, if that is what you write. You are smart–there is huge market for it.
Conversely, adventure with no romance is a travelogue detailing a rough trip, but nothing to write home about. I want to read a tale of intense personal growth, horrible setbacks, and love that rises above all odds.
This is not to say that I don't have my graphic moments as a writer. Anyone who has read Huw the Bard will know  there are some graphic moments in his life. But words splashed on a page for their shock value are not my style, so for me, it's important to consider the quality of the tale. If a graphic scene appears in my tale, it's there because it's a watershed moment for my main character, one that forces a change in the course of their life. And, if I have done it right, each scene will intrigue the reader and challenge them, making them want to read more.
In a book, romance must have a reason for being depicted in graphic detail or it's not interesting to me. Also, adventure must have some sort of some unattainable goal whether it is love or an object.
I like to look back at history, to see what it was about some tales that have kept the interest of readers, not just for years, but for centuries. What do these tales embody that new works should also have, to make them timeless?
Let's examine the Arthurian Legend. From the website, www.arthurian-legend.com.
I quote: "The legend of King Arthur and the knights of the Round Table is the most powerful and enduring in the western world. King Arthur, Guinevere, and Sir Lancelot did not really exist, but their names conjure up a romantic image of gallant knights in shining armor, elegant ladies in medieval castles, heroic quests for the Holy Grail in a world of honor and romance, and the court of Camelot at the center of a royal and mystical Britain."
There we have the essence of what I think constitutes a timeless tale: Powerful people doing heroic deeds, and finding a bit of romance along the way. Set them in intriguing surroundings and dress them in metal or velvet (or both) and voila! Now all you must do is cue the magic–bring on the wise old sorcerer.
In my own work, I want the romance to be romantic and the adventure to be death defying. Billy Ninefingers, a stand alone novel set in Huw the Bard's world, has entered the editing phase. Billy encompasses all the above criteria for a good fantasy adventure and so far, my early readers like his slightly rough-around-the-edges style.
Depending on how the editing goes, he should launch in September 2017. The cover has been designed, and we are busily arranging promotions. Hopefully, this tale of disaster, desperation, and life gone awry will please the many fans of Huw the Bard who have wanted a sequel, as Huw does have a role in this tale.
And on that note, a more mature version of Huw will also appear in a novella later this year, Knight's Redemption, which takes place twenty five years after the events in Huw the Bard and Billy Ninefingers.
I do a lot of reading, and if I am not reading, I am writing (or cooking or doing housework, which is another story). My hope is that at some point in every tale I write, my readers will find themselves completely involved in the tale to the exclusion of the world around them. If that happens, then I have done my job.