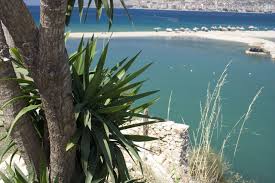 Ah, summer – halcyon days of sunshine, friendship, and those popsicles that come with two sticks. Here on the east coast we head to the shore whenever possible (early so we get a parking spot,) flop on the sand, and drag out a packed lunch. And a book to go with it, of course.
You can't go wrong with sliced tomatoes on your sandwich or, indeed, on anything. They're juicy and delicious at the moment, tasting like summer itself if you let them ripen on your windowsill. Personally, I like nothing but tomatoes on the best wheat bread I can find, with just a dab of mayonnaise and lots of pepper. A dash of salt brings the sandwich into the realm of the sublime.
What, add an ear of corn on the cob alongside? Oh, yes please.
If you love wheat bread and want to make your own, you can't go wrong with beer bread. It's simple and delicious. In fact, I've seen grown women eat hunks of it in my kitchen straight from the pan with no butter or toppings. Shame on you, women – you know who you are. Anyway, because I love you, here's my super easy, super yummy recipe.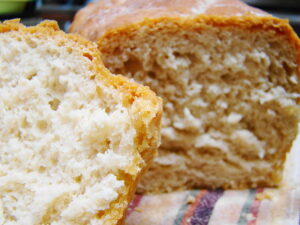 Whole Wheat Beer Bread
1 ½ cups (215 grams) all-purpose flour (I like Serasota or King Arthur)
1 ½ cups (215 grams) whole-wheat flour (ditto on the brands)
4 ½ teaspoons (22 grams) baking powder
1 ½ teaspoons (7 grams) salt
1/3 cup (50 grams) packed brown sugar (you may substitute this with 4 tablespoons of agave)
1 12 ounce (360 ml) bottle of beer – feel free to try different brands for cool flavors
1. Preheat oven to 350 F / 175 C. Lightly grease a 9×5 inch (900 g) loaf pan.
2. In a large mixing bowl, combine all-purpose flour, whole-wheat flour, baking powder, salt, and brown sugar. Pour in beer, stir until a stiff batter is formed. It may be necessary to mix dough with your hands. Scrape dough into prepared loaf pan.
3. Bake in preheated oven for 50 – 60 minutes until a toothpick inserted into center of the loaf comes out clean. Remove loaf from pan and allow to cool on a rack. Then go make another one because your family has already eaten the whole loaf you just baked.
Back to that ear of corn: I've learned if you chop off the tops and tails before microwaving 5 minutes (rotate halfway through) right in the silk, the corn comes out perfectly. Let it sit until it isn't nuclear to the touch and husk the perfectly done corn. I like it plain without any toppings, but my husband smothers his in butter. Each to their own.
Now you're settled on the beach, the kids are fed, umbrellas are up, sunscreen is applied. It's time to bring out a really good novel to read or, if you're like me, a fantastic collection of short stories will also do the trick.
What are you reading this summer? I just finished Girl on a Train, which was amazing. The ending (no spoilers, don't worry) was a bit talky / monologue-ish, but I couldn't put the book down. I also loved Huw the Bard, which sucked me right into a medieval world of political intrigue, meticulous fantasy, and sexy Huw himself. Do I have a crush on him, with his waist-length hair? Oh, you bet I do.
I'm a sucker for slipstream, and Kelly Link's new collection Get in Trouble: Stories horrified and delighted me at the same time. I love writers who can do that.
Darker Places is another collection with macabre pieces taking me to entirely original places. Want a masquerade gone wrong? Darker Places will provide.
When it's time for a drink, honestly there's nothing better than good old seltzer with fresh lime and a spring of mint. For those who like a bit of a kick, a dollop or two of vodka is mighty refreshing along with the seltzer. It's a light, summery drink that won't head south to the waistline so you can wear your (in my case) parental tankini with aplomb.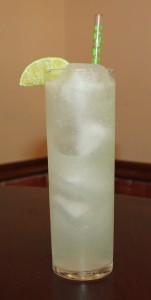 Here's to a wonderful summer filled with food, friends, and fabulous fiction.
Alison DeLuca is an author with Myrddin Publishing. Below is a list of her books: