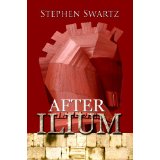 Four years of college has not taught Alex as much as he will learn in a month on the Turkish coast!
Fresh from college, Alex Parris, naïve History major and innocent computer geek, claims his reward from his proud parents: a tour of the Classical world. Most of all, Alex longs to visit the site of ancient Troy (Ilium) and walk the same pathways as the Greek and Trojan warriors did nearly 3000 years ago.
While sailing from Greece to Istanbul on a cruise ship, Alex meets an older woman, Eléna, who he indulgently fantasizes as the mythic Helen to his Paris. She, with her own mysterious background, toys with him and draws him into an affair. Eléna leads Alex through their sacrilegious journey through Istanbul and he is happy to try on the confident, adult role he has long desired. Alex sees Eléna as the perfect woman for him and he can see a future together.
The culmination of Alex's tour is the visit to the site of ancient Troy, a place that is finally more important to him than sex. There, bored with Alex's history lesson, Eléna sparks a confrontation with some Turkish men. Seeing his lover accosted, Alex must save her, even as he knows he is no match for them. Fortunately for Alex, there are three off-duty Navy men who join him in the fight. When they escape from the local jail, a new Odyssey begins for Alex, making their way across the Turkish countryside. Alex must return for Eléna. But what is he willing to do, how much will he have to endure to be reunited with his lover?
After Ilium is available on Amazon for Kindle, here.