Every summer I search for the perfect beach read that has certain qualities:  not too long, not too mushy, and with a plot that will keep my mind from drifting lazily back to the hypnosis of the surf.  The funny thing is, I generally don't read mysteries.  They are the literary equivalent of math puzzles to my brain, and who wants to sit in a beach chair and do those?
For inexplicable reasons, I decided to read Jenny Milchman's "Cover of Snow," hoping it wouldn't bring about the aversion I felt while trying to read Gillian Flynn's "Gone Girl" (loved the movie, hated the book).   I needn't have worried.
The story is set in New York state's Adirondack mountains where Nora Hamilton lives with her husband, Brendan.  She wakes one morning, sleepily recalling their lovemaking from the night before.  The warm reveries don't last long as Nora discovers that Brendan has committed suicide, hanging himself inside their farmhouse.  From that shocking beginning, Milchman takes her readers on a wild ride through the frozen rural community.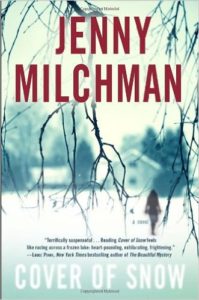 Milchman's descriptive prowess telegraphed the bitter cold straight to my bones, and wove an artful suspense that kept me engaged to the very last page.  This is her debut novel, which has won the Mary Higgins Clark Award.  I can't wait to read more from this talented writer.
Kathleen Barker was born and raised in Baltimore, Maryland, but spent much of her life as the traveling wife of a Navy pilot. While working for a Fortune 500 insurance company in New Orleans, she wrote feature and human interest articles. After Hurricane Katrina, she returned to her beloved state of Maryland where she started work on "The Charm City Chronicles". All four volumes, "Ednor Scardens", "The Body War", "The Hurting Year", and "On Gabriel's Wings" are available in Amazon's Kindle store.