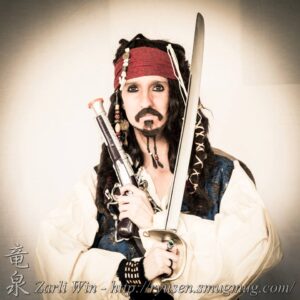 Sometime after the third Pirates of the Caribbean movie, one of my fellow cosplay friends was coming to Hawaii for a vacation and she wanted to get pics with her Elizabeth Swan outfit since they filmed part of the movie out here. I was struggling with finding a character, so she suggested I cosplay Will Turner to accompany her. What you have to understand is that I am secure in my sexuality and look at being characters as a tribute to how much I am a fan of the character, so I am secure in cosplaying either female of male without it threatening my own sexuality (so many people will only cosplay their own sex. And if they do the other sex, it's strictly as a genderbent or rather the character done to obviously look like the other sex). My only worry is if I can pull off the look okay for being a suitable tribute to the character. Suffice to say, I pulled off a passable Will Turner and had fun getting some really awesome pics.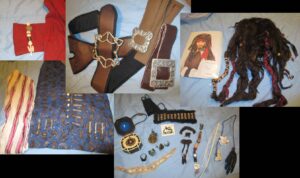 When commercials for Pirates of the Caribbean 4: On Stranger Tides started playing on TV, it made me wonder if I could pull off the Jack Sparrow look. So, there was me, late on a Saturday night, playing with a tin of black eye shadow, brushing it on in all the places where Jack would have eye shadow, mascara, or facial hair. It looked awesome enough to spur on the idea of creating a full Jack Sparrow costume. Luckily since the movie was coming soon, there were plenty of costume items in the stores like straight off I was able to find all four of his replica rings and Elizabeth's pirate medallion at Claire's. I picked up one generic plastic pirate pistol from the local Party City. Admittedly, I had a long search online for the perfect Jack Sparrow wig, but I managed to find a perfect one at www.allstarcostumes.com along with the Jack Sparrow bandana, wooden pistol, plastic sword, a mustache kit (which I had to majorly trim down since it was adult size and I'm rather small), and an accessory kit which included a plastic version of the compass.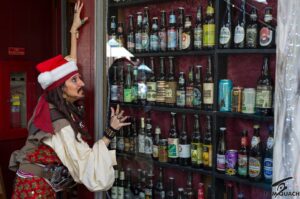 I added some basic black boots and the pants are just pants I picked up from Rosses Dress for Less which I actually bought for, and hemmed Capri-style, for a Hobbit costume I had put together several years earlier. I had to make the shirt from scratch via a Simplicity pattern as well as the vest. I hunted through all of the local stores and online with no luck on finding the right print fabric for the vest, so I ended up having to paint it with copper brown fabric paint to achieve the proper scorpion pattern (which was a headache and a half). And I also couldn't find the proper fabric for the sash either so I had to make it myself using ribbon to create the lined pattern. The belts are just strips of leather. And I swear by Sculpy/Fimo clay which you just toss into the oven when you want it hardened, which I used for the belt buckles, the intricate twist buckle on the sword belt, the tiny bones on the bandana, and for a large majority of the trade beads.
In all, Jack Sparrow has to be to date my most intricately detailed costume. Maybe not the most expensive though. That would probably go to the 9 yards of silk-velvet for my Lord of the Rings Arwen dress or the 7 yards of velvet plus 5 yards of satin for my Star Wars Handmaiden dress. In total, it took me about 3 months to fully assemble Jack since I had to budget in my usual full-time job, waiting for things to ship, and using my weekends to chase down odd bits (like I visited at least two bead fairs searching for specific beads, which I finally ended up crafting out of Sculpy instead. Of the odder items going into this, there are several different Chinese and Japanese coins, a feather, and a chopstick. It really made me wonder on the logic/sanity of the costume designers who put together his look.)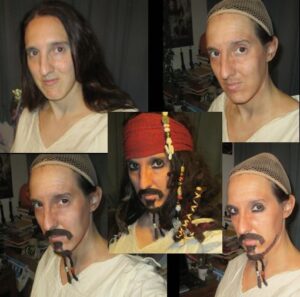 The entire outfit takes an hour to put on, I kid you not. The base layer (the shirt, pants, vest, and boots) takes barely a couple of minutes. It's the making certain all the accessories and belts are in proper placement and then all of the makeup (I use a base layer of bronzer, then add on the beard, goatee, and mustache prosthetics with spirit gum, and then black cream eye liner with a brush from Maybeline to create the portion of the beard that goes all the way up to my cheekbones, and the black eye shadow). Amazing about this outfit is that I'm a rather large-chested female (so large that my size doesn't exist at Victoria Secrets, which is a wild story for another time. #Imnoangel), but you can't tell any of that under this outfit. Even good friends can't tell who I am underneath.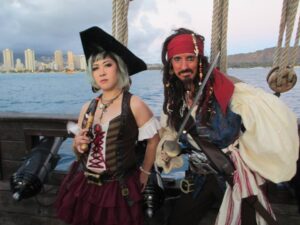 I've been dressing as Jack Sparrow for about a year and a half where this outfit has been to several charity events, the symphony, a party on a pirate ship, a university basketball game, a tea party (which I modified the outfit to accommodate a Christmas theme), one random stop for gas at a 7-Eleven (where I got a grin from the clerk who waited on me), and even a hiking trail for a photoshoot. The surprising place I haven't worn this outfit to yet is a convention. I'm used to quick changes at a convention and just don't have time in my usually hectic schedule to budget in a 1-hour change time. Cosplaying Jack Sparrow has been a wonderful experience. So many children want pics with Jack at the events, to the tourists we delightfully surprised on the hiking trail, to the people at the basketball game who said I looked just like Johnny Depp. I love trying to match Jack's facial expressions and walk. Personally, I'm way too shy to be as outgoing as Jack Sparrow, but it's so much fun to try.
______________________________________________________________________________
Gypsy Madden is the author of the YA paranormal fantasy, Hired by a Demon