Love werewolves and gorgeous hunks? Then this is the book for you!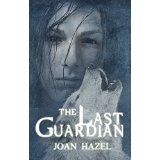 CJ Carson believes herself to be slightly crazy. For as long as she can remember, she has been plagued with strange dreams, migraines and an imaginary friend that never seems to go away: a voice of love and reason she has heard in her head since childhood.
Orphaned at birth, Mika Elkhart was raised by the Guardian's of Haven to become a member of Delta Pack, the Theriontrope Foundation's elite defense force. His was a world of death and darkness aside from his one ray of hope, CJ Carson.
The time has come for Mika to reveal his true identity and convince CJ to take her place as the Guardian of Haven, but the road to Haven is laid with danger. Without a Guardian, Haven will destroy itself and without CJ in his life, so may Mika.