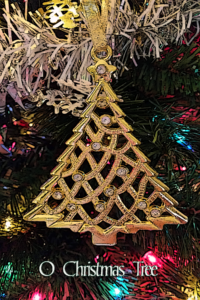 I love the sights and scents of the holiday season. Cookies baking, houses on our street with lighted displays–you don't have to go wild to make a huge impression. My dear hubby always puts a few decorations out, little trees made of white lights and lighted candy canes.
All up and down our neighborhood, homes are decorated for the season. Anyone driving through our little valley will see some ambitious displays. Our home is really quite simple in its holiday decorating–a tree, candles, a cute centerpiece for the table. We keep it simple because we have to tear it down and put it all away over New Year's day, and that rapidly becomes a bore.  It's work, and I don't like anything that falls into the category of labor. But I love looking at other people's efforts!
Wrapping the presents is also a bore, but I am now the queen of bags! I love that all I have to do is remove the price-tag, fold a little tissue around it and stuff it in a bag. Jam a little tissue in the top and voila! Christmas is served! No more tape sticking to the wrong place and no more hunting for the scissors I just set down.
Just lazy me, blowing through wrapping the pile of presents like a sleigh through the snow!
We have a lot of grandkids. We'll make sure their gifts arrive at their houses before the big day. It's sad when their presents leave our house to go under the trees in their homes because our tree looks a bit lonely. But not for long–we'll soon have a few bags under there, just a little something for the two old people to enjoy on their quiet Christmas morning with the son who lives nearby.
It doesn't take a lot to make the place feel festive. A little here and there and the house feels warmer, cozier. An atmosphere of peace and well-being. I will roast a turkey breast for my hubby because he is a carnivore, but I will make a vegan entrée for me, a Hazelnut-Cranberry Roast made by the Seattle-based Field Roast Company. Everything I cook will be vegan except Greg's turkey, and it will be delicious.
I make all the traditional dishes, substituting Earth Balance vegan margarine and almond or rice milk for the dairy. I use vegetable broth to make the cranberry walnut stuffing. Anyone can eat well if they choose to, and it's not any more expensive than eating junk food, cheaper if you want to know the truth.
This is my recipe for:
ONION AND MUSHROOM GRAVY
Ingredients:
 3/4 cup white or button mushrooms, chopped
1 small yellow or white onion, minced
1/4 cup vegan margarine
2 1/2 cups vegetable broth
2 tbsp soy sauce (for gluten free, use corn starch to thicken the broth)
1/4 cup flour
1 tbsp poultry seasoning (or 1/2 tsp each of sage, thyme, and marjoram)
salt and pepper to taste
Preparation:
In a large skillet, melt the vegan margarine and add onion and mushrooms. Sauté for just a minute or two over high heat.
Reduce heat to medium and add vegetable broth and soy sauce. Slowly add flour, stirring well to combine and prevent lumps from forming. Bring to a simmer or a low boil, then reduce heat.
I love this time of year. Great food, all the Christmas lights, and decorations–I kind of go nuts. When we take the presents round to our children's homes I feel a sense of having succeeded–they have new traditions for their children, combined some from our past. I feel a sense of continuity–We're the grandparents now, the old-fashioned ones, the ones who always have time for a cuddle and never deny a grandchild a cookie when he wants one.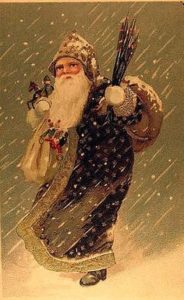 We're always in the background, knowing we're slightly in the way of our daughters as they work to get things done, but trying not to be. We gladly wrangle the children, delighted to be mauled or sat on, happy to have our hair brushed, or even our toenails painted if that's what makes a child happy. We'll play Legos with them until the cows come home so their parents can get the real work of the holidays done.
When we were the parents and our children were small, our parents were there for them, being the old, wise people who loved them as unconditionally as we love our grandchildren. 
In this holiday dance, the circle is complete.