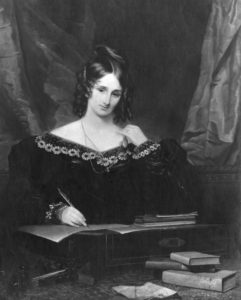 The commonly publicized stories of famous men and women are generally focused on their great victories and glorious successes, and rarely touch for long on the less-than-glorious moments in their careers.
And, while I am always inspired by great successes, I am far more intrigued by how the heroes and heroines of history handled the most crushing, personal defeats.
One woman I deeply admire as much for the way she handled disgrace and loss as for her literary success, is Mary Shelley.
The year was 1814, and Mary Wollstonecraft Godwin was 17–young, even by the standards of the day–when she ran away with a married man. That man was Percy Bysshe Shelley, who was (until he eloped with Mary) a close friend of her father.
Mary was the daughter of the famous political philosopher William Godwin, and her mother was the pioneering philosopher and feminist, Mary Wollstonecraft.  Her father was the first modern proponent of anarchism, and (until recently) her late mother's tempestuous history overshadowed her brilliant work as a writer, philosopher, and advocate of women's rights. Her parents were Free Thinkers, and were notorious in their own rights.
Percy was the eldest legitimate son of Sir Timothy Shelley, 2nd Baronet of Castle Goring. Sir Timothy had himself produced an illegitimate child, which (in Percy's eyes) made his  pious horror at his son's transgressions seem rather hypocritical.
William Godwin was frequently in danger of going to debtors' prison as his businesses regularly failed.  Good friends always rescued him, and long before beginning his relationship with Mary, Percy Shelley had agreed to bail the man he admired out of debt.
After their elopement, the enraged William Godwin refused to see them, but still demanded money to be given to him under another name, to avoid scandal. Their assertions that marriage was a matter of mind and God rather than the law fell on primly deaf ears.
Mary viewed her father's reaction to their elopement as both sanctimonious and motivated by greed. It does appear that way, in view of his past and his political views, and also in view of the liberal way in which he had raised her after her mother's death.
But beyond Sir Timothy Shelley and William Godwin's hypocrisy, the couple faced intense censure from society at large, and paid a heavy price for the choices they had made.
After the suicide of Percy's 1st wife, Harriet, and his subsequent marriage to Mary, the Chancery Court ruled Percy Shelley morally unfit to have custody of his children, despite Mary's desire to raise them. In what was a well-publicized case, Percy's children were placed with a clergyman's family.
Despite having her personal business widely discussed and being snubbed by people she had believed to be her friends, Mary refused to behave as an outcast, writing and living as normal a life as she was able. Forced to live abroad to escape creditors, Mary and Percy found their exile from England hard to bear, despite their famous (and infamous) circle of friends who were exiled for much the same reasons.
When faced with the suicide of her sister Fanny and the deaths of three of her children, Mary suffered a deep depression. She retreated into her writing, and her husband retreated into confusion. Nevertheless, in public she carried herself with grace and dignity, no matter what was said or implied about her. During that time, Percy wrote:
My dearest Mary, wherefore hast thou gone, And left me in this dreary world alone? Thy form is here indeed—a lovely one—But thou art fled, gone down a dreary road That leads to Sorrow's most obscure abode. For thine own sake I cannot follow thee. Do thou return for mine.
At the age of twenty-two she found herself a widow, and spent the rest of her life raising her only living son, writing, and getting Percy's works published. Her life with Percy had been a struggle in many ways, far beyond the obvious, but no man ever captivated her more than he had. The wild passion she felt for him was as much spiritual as it was carnal, a true meeting of minds.
They were young, and although he loved her body and soul, he was not entirely faithful to her, and didn't hide his infidelity from her. They lived beyond their means and were hounded by creditors, which could have meant debtor's prison. In Mary's eyes, that lack of security was far more difficult to endure than sly comments about her perceived bad behavior.
Mary Shelley was brave in what she published, and wrote her political thoughts into her novels and essays boldly, despite women having no right to voice their ideas. She believed in the Enlightenment idea that "People can improve society through the responsible exercise of political power," but she also feared that the reckless exercise of power would lead to chaos, and her works reflect this belief.
Her works reveal her as much less optimistic than her radical parents, Godwin and Wollstonecraft. She doubted her father's theory that humanity could eventually be perfected.
Even her early works are critical of the way in which 18th-century thinkers, such as her parents, believed radical political changes could be brought about. It has been pointed out that the creature in Frankenstein reads books associated with radical ideals, but the education he gains from them is ultimately useless.
Mary supported her son with her writing, and a small stipend she managed to squeeze from Sir Timothy, who wrote into his will that she should pay it back when her son inherited the title and estate. She was never accepted or acknowledged by her father-in-law, although her son did live to inherit his title and estate.
How people find the strength to hold their heads up in the face of public humiliation, personal tragedy, and intense social ostracism is, to me, a far more intriguing story than their successes. Anyone can ride the wave of glory–it takes a person of great character to surf the shoals of public disaster with grace and step on shore with confidence and their dignity intact.
________________________________________________
#GraceUnderFire: Mary Shelley by Connie J. Jasperson was first published 7 Oct 2015  on Life in the Realm of Fantasy
Wikipedia contributors, "Mary Shelley," Wikipedia, The Free Encyclopedia, https://en.wikipedia.org/w/index.php?title=Mary_Shelley&oldid=757791087 (accessed October 5, 2015)
Image: Portrait of Mary Shelley, Richard Rothwell [Public domain], via Wikimedia Commons