I not only hate walnuts, I'm allergic to them. Finding a recipe for banana bread that doesn't get funny when you take out the walnuts is challenging. This one works and has my kids' stamp of approval. Makes one loaf of bread, which you can slice into as few pieces as you want.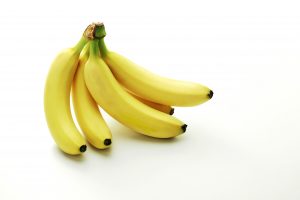 Ingredients:
1⅓ cups flour
1 Tbsp rolled oats
¾ tsp salt
½ tsp baking soda
¼ tsp baking powder
5⅓ Tbsp unsalted butter, softened but not melted
⅔ cup sugar–brown or white
2 very ripe bananas
1 Tbsp brown sugar
2 large eggs
Equipment:
Electric mixer
Wire whisk or similar tool
Three mixing bowls
Something to mash your bananas
Scraper spatula
One loaf pan, prepared for baking in your preferred manner
Directions:
Preheat oven to 350.
Combine flour, oats, salt, baking soda, and baking powder in one mixing bowl and whisk together. Set aside.
In the second mixing bowl, use the electric mixer to beat the butter and sugar together until creamy. This will be the bowl you add everything else to. Set aside.
Use the third mixing bowl to mash the bananas with the extra tablespoon of brown sugar. Set aside.
Return to the butter mixture. Gradually add the flour and beat together so you don't coat yourself with flour.
Beat in the eggs, one at a time.
Using the scraper spatula, fold in the mashed bananas. Use only as many cutting strokes as it takes to combine the two.
Pour the batter into your loaf pan.
Bake uncovered for 60 minutes.
Turn off the oven, prop the door open, and leave the bread inside until the oven cools.
Remove from the pan and let cool as long as you can wait to eat it.
Notes:
The baking time may need to be adjusted by as much as 10 minutes in either direction for your oven. When the crusty edges on top darken to a deep brown, turn off the oven to avoid burning.
This recipe adapts well to gluten-free flours used with xanthan gum.
Adapting this recipe to vegan can be done, but I recommend instead using a recipe designed for vegans.
Replacing up to half the flour with whole wheat flour works fine.
Change this to apple by replacing the banana with 1 cup applesauce and adding 1 tsp total of apple pie spices.
Change this loaf to pumpkin by replacing the banana with 1 cup pumpkin puree and adding 1 tsp total of pumpkin pie spices.
This bread freezes well, sliced or unsliced.
If your bananas are frozen, make sure to thaw completely before using.