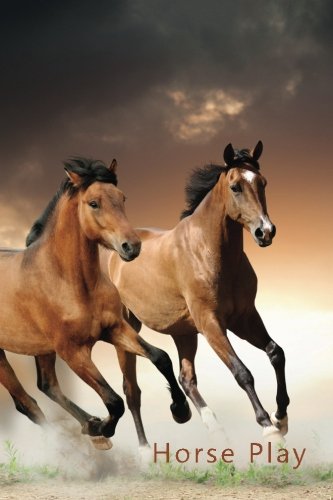 Horse Play is a secret password notebook that is disguised as a paperback about horses. Add all your website information in one handy place to organize your internet life.
About the Book
Are you always forgetting your website logins, usernames and passwords? Do you have lots of sticky notes or labels around the house to remember them? Would you like to find a better way?
Horse Play is a secret password notebook that is disguised as a paperback about horses. Add all your website information in one handy place to organize your internet life.
This password book is designed for people who adore horses.
The attractive design is a password journal with a difference. It was created so that opportunist thieves won't know what it is at a glance. This means that you can hide it in plain sight on your bookshelf at home with other books.
What you can expect from this internet password organizer:
Tabbed effect alphabetical pages 
Are you looking for a password book with tabs? This horse password book has alphabetical tabs running down the right page. For an added bonus, if you flick the pages, hoof prints run down the side of the page as the tabs disappear!
Disguised cover to make it not so obvious what it contains 
There are several password logbooks on the market but this one was created so it could be hidden in plain sight. It looks like a photobook from the outside but inside there are gorgeous kittens playing around 3 boxes for your login information on each page.
Section on creating secure passwords 
There are risks to however a password is stored. These can be from online thieves or opportunist burglars. At the front of the book is a brief section for creating a secure password that can be written down but can't be used by someone who has the book (unless you tell them the extra password information needed).
Notes and other pages to add other useful information like software licenses 
There is a section at the back to add information that won't fit in the usual password boxes. There are notes pages but also places to add home network settings and license information. If you have a friend coming around who wants to use the WiFi, just add it in here and you will be able to instantly find it when you need it.
More space to write in your information 
This handy-sized password keeper is 6 inches wide by 9 inches high for more space to write in your login information. There are 3 boxes per page.

Horse Play is part of the Disguised Password books series which include:
5.06 x 7.81 (Pocket-size) 
Foal Play by Ceri Clark (horse book)
Password by Ceri Clark (technological thriller)
Broken Hearted by Ceri Clark (victorian romance)
6″ x 9″ (Mid-size) 
These are animal themed password books
Meow-nificent Kittens by Ceri Clark
Paws-itively Puppies by Ceri Clark
Birds: A Secret LIfe by Ceri Clark
Find your Hoppy by Ceri Clark
Horse Play by Ceri Clark
The Secret Lives of Cats by Ceri Clark
8.5″ x 11″ Large format 
Diesel Engine Repair Manual by Ceri Clark
Foal Play by Ceri Clark
Knitting for Beginners by Ceri Clark
Secrets of the Freemasons by Ceri Clark
Whittling: Carving for Beginners by Ceri Clark
For more advice on security, please take a look at A Simpler Guide to Online Security for Everyone by Ceri Clark.
What do you think? Please comment.
comments
The following two tabs change content below.
Ceri is the author of several books ranging from fantasy to non-fiction. She is a former Librarian living in Newport, Wales, UK. After writing Children of the Elementi, she wrote the Simpler Guide series including A Simpler Guide to Finding Free eBooks, A Simpler Guide to Calibre, A Simpler Guide to Google+ and A Simpler Guide to Gmail. She publishes her books under Lycan Books in association with Myrddin Publishing.
Latest posts by Ceri Clark (see all)
Other Books in "Password Books"