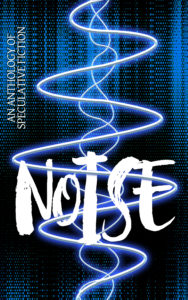 The anthology, NOISE, began with a question, "Does this thing always sound like this?"
The answers are "No" and "Yes," served up with a rousing "Maybe!"
Ten authors took on the challenge, gifting us with twelve brilliant stories, poems, and novellas, moments in fictional lives, all sharing the human experience of sound
At times we hear the voices of the enemy.
Other times the silence is broken by the rattle and groan of a last hope falling apart.
It could be a person's world crashing around their ears.
An ear-worm or an airhorn.
Crushing guilt and broken hearts.
We rarely pay attention to the ambient noise of the cafeteria. But it is there and for some, it is a cacophony.
What is the sound of justice being rendered?
It could be that buzzing sound…follow it…it may lead us to mushrooms and Mars.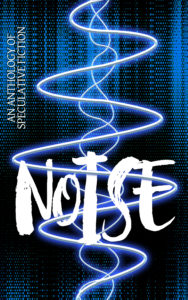 Noise—it's all around us, a sensory thing. It can be beautiful or terrifying, and but it most often goes almost unnoticed.
The anthology, NOISE, explores the human experience of sound and details the turning points that changed lives.
NOISE, an Anthology of Speculative Fiction is available at Amazon  http://getbook.at/Noise
12 stories, novellas, and poems of sound, silence, and the Human experience.
>>><<<   >>><<<   >>><<<   >>><<<
About the authors, in no particular order:
Lee French is a USA Today bestselling author living in Olympia, WA with two kids, two bicycles, and too much stuff. She's a frequent visitor to Myth-Weavers, an online RPG site, and also trains in taekwondo. Best known for her young adult urban fantasy series Spirit Knights, she is an active member of the Science Fiction and Fantasy Writers of America and a NaNoWriMo Municipal Liaison. Discover her many books and stories on her website at www.authorleefrench.com.
Shaun Allan is a Wattpad Star, featured author and Wattys winner.  He has appeared on Sky TV to debate traditional vs electronic publishing against a major literary agent. He write multiple genres, including young adult and children's, along with psychological horror. Shaun has been commissioned to write for Universal, Warner Bros, Blumhouse, STX and Paramount for such movies as The Purge: Anarchy, Sinister II, The Boy, Incarnate, IT and A Quiet Place. He regularly holds writing workshops at local schools and lives with his wife, daughters and a manic dog called Ripley. He works full time, co-owns a barber's salon, and writes in that breath between his heartbeats.
Connie J. Jasperson lives and writes in Olympia, Washington.  A vegan, she and her husband share five children, an ever-growing number of grandchildren, and a love of good food and great music. The author of nine fantasy novels, she is a member of SFWA and is active in local writing groups. She participates annually in NaNoWriMo. Music and food dominate her waking moments and when not writing or blogging she can be found reading avidly. You can find her blogging at
https://www.conniejjasperson.com
Ross M. Kitson is a published author in the fantasy genre, with an ongoing series (The Prism Series), a number of short stories on Quantum Muse web-zine and several stories in Steampunk and fantasy anthologies. Ross works as a doctor in the UK specializing in critical care and anaesthesia. His love of speculative fiction and comics began at a young age and shows no signs of fading.
Victoria Azores spends all day in pajamas and drinking coffee.  She isn't wealthy but has mastered the art of being a perpetual houseguest.  The secret is to always make pancakes for one's hosts on Sunday.  She has written five thin volumes of verse, most of which are hidden in dusty crannies about her attic room.  She has never watched Game of Thrones.
Marilyn Rucker is a songwriter who dabbles in novel and short story writing.  Her books, the cozy mystery  Sax and the Suburb and the historical fantasy The Cat, the Crow and the Grimoire have both won Indiebrag awards.  The Cat, the Crow, and the Grimoire also won The Woman's Write Best Novel award of 2017 award.   She is currently working on a book about the end of the world.  Her books and links to her songs are at www.marilynrucker.com.
Stephen Swartz up in Kansas City where he was an avid reader of science fiction/fantasy and quickly began emulating his favorite authors. Eventually studying music in college, he composed a symphony. Like many writers, Swartz also worked at a variety of jobs: from French fry guy to soldier, IRS clerk, TV station writer, before heading to Japan to teach English for several years. Returning to the US, Swartz became a professor of English and now teaches at a university in Oklahoma. He can be found writing his latest manuscript usually late at night and blogs weekly.
http://stephenswartz.blogspot.com/
Lisa Zhang Wharton Born and raised in Beijing, China, Lisa Zhang Wharton is graduate of Peking University and University of Minnesota. She is an engineer by education and an author by avocation. She has previously published several short stories about life in China in various literary magazines. Her short story "My Uncle" has won a second prize in a WICE sponsored Paris Writer's Workshop. "Last Kiss in Tiananmen Square" is her first full-length novel. Recently its paperback has been republished by Myrddin Publishing and sold in Amazon.
She strives to enlighten her readers about the cultural differences between the West and China, showing not only the differences but also the similarities, to foster global thinking and hopefully create a path to a more peaceful world.
She works at Medtronic Inc. and lives in St. Paul, Minnesota with her husband. You can read her blog at www.lisazhangwharton.blogspot.com or follow her on twitter at @zhangwhart
David P. Cantrell, a retired CPA, lives with his wife of four decades in the beautiful coastal community of Arroyo Grande in central California. An accident late in life left him paralyzed from the neck down, though he's regained significant faculty. After a chance encounter with Jasper T. Scott, he turned to writing as an outlet for his creative energy. His debut novel, Gates of Fire and Ash, is a YA fantasy showcasing his love for dogs. Find out more about his work at www.davidpcantrell.com.
Maria V.A. Johnson is a published poet, a voracious reader, professional editor, and published author with a BA Hons Degree in English and Creative Writing. She first started writing seriously, when at sixteen she wrote a poem for her grandmother's funeral and she grew to love poetry and writing from there. She has collaborated in a book entitled The Other Way is Essex, which raises money for Farleigh Hospice in Chelmsford, Essex not far from her home.
You can find Maria at  https://www.myrddinpublishing.com/authors/maria-v-a-johnson/
Alison DeLuca is the author of several steampunk and urban fantasy books.  She was born in Arizona and has also lived in Pennsylvania, Illinois, Mexico, Ireland, and Spain. Currently she wrestles words and laundry in New Jersey.