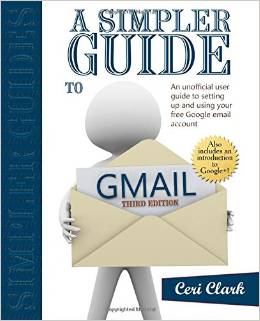 A Simpler Guide to Gmail is a complete illustrated Gmail users guide to setting up and using the free email service.
About the Book
Third edition of A Simpler Guide to Gmail: An unofficial user guide to setting up and using your free Google email account now available!
Are you looking for free email but don't know where to start? Do you use Gmail but want to use it more effectively? Do you want to organize your emails better? Spending too much time on your email? Then this guide for your Google mail account is for you!
This is the complete illustrated guide to setting and using Gmail. Packed full of tips and information, this simple guide to Gmail will help you to:
Learn why Gmail is the best email solution
Gmail setup
Send and receive emails
Avoid and explain the best way to deal with scams, spam and phishing emails
Protect your email from hackers
Organize your email
Understand and use the settings
use the Google mail app
Discover and use Google+
And much more…
This is a comprehensive, step-by-step guide that will show you how to navigate the sometimes confusing set of features in Gmail. It  starts from the Gmail setup where you choose your username (your Google email addresss) through to the Google email settings and using the Google email app on your android phone. Over 300 pages (the paperback) of how-to instructions that will make using your Gmail email account a breeze to master.
What do you think? Please comment.
comments
The following two tabs change content below.
Ceri is the author of several books ranging from fantasy to non-fiction. She is a former Librarian living in Newport, Wales, UK. After writing Children of the Elementi, she wrote the Simpler Guide series including A Simpler Guide to Finding Free eBooks, A Simpler Guide to Calibre, A Simpler Guide to Google+ and A Simpler Guide to Gmail. She publishes her books under Lycan Books in association with Myrddin Publishing.
Latest posts by Ceri Clark (see all)
Other Books in "Simpler Guides"